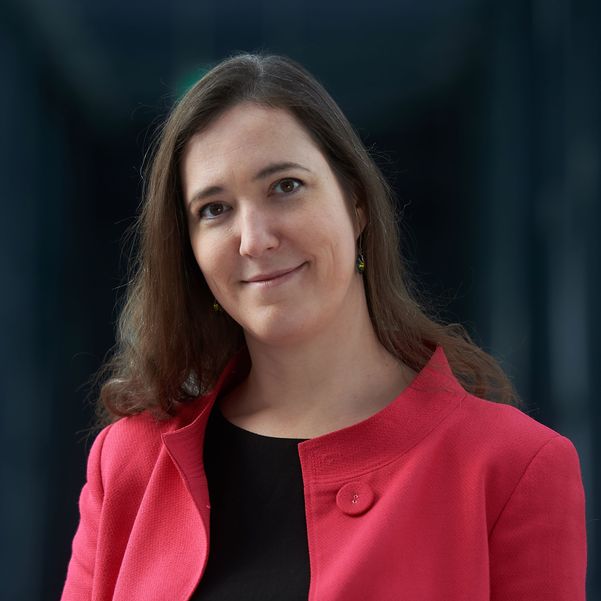 Maria Górna,
Ph.D.
Head of the Structural Biology Group
I graduated from the interdisciplinary MISMaP programme at the University of Warsaw, combining biotechnology and chemistry. Next, I trained in structural biology during PhD studies at the University of Cambridge and a short research stay at SGC at the University of Oxford. Over the course of my postdoctoral work at CeMM in Vienna, I collaborated with systems, chemical and computational biologists and medical geneticists on a number of projects related to innate immunity, leukemia and some rare genetic conditions. In 2015, I returned to structural biology and Poland to help establish a protein crystallography laboratory at the newly opened BCRC and our Department of Chemistry.
My broad interest is in using three-dimensional structural models to explain protein function: e.g. the molecular mechanisms in RNA metabolism from viruses or bacteria to humans, or identifying the role of mutations underlying human diseases. I have also developed a passion for trying to translate my research findings into useful inventions through protein engineering and repurposing.

Research positions and degrees
Current positions:

Since 2016 Leader of the Structural Biology Group, Biological and Chemical Research Centre, University of Warsaw;
Since 2015 Assistant Professor (Adiunkt), Department of Chemistry, University of Warsaw;
Past research stays:

10.2018-03.2021 Expert, WPD Pharmaceuticals, Warsaw, Poland

01-02.2020 Fulbright Visiting Scholar, Jean-Paul Armache laboratory, Eberly College of Science, Pennsylvania State University, USA

05-07.2015 Visiting researcher (EMBO ASTF), Membrane Protein Laboratory, Diamond Light Source, Harwell Science & Innovation Campus, UK
2010-2015 Postdoctoral Fellow, Giulio Superti-Furga group, CeMM Research Center for Molecular Medicine of the Austrian Academy of Sciences, Vienna, Austria
04-05.2010 Visiting collaborator, Stefan Knapp group, Structural Genomics Consortium, University of Oxford, UK
Education and degrees:

2006-2010 PhD student in Biochemistry and Marie-Curie Early Stage Researcher (EU FP6), Ben Luisi group, Department of Biochemistry, University of Cambridge, UK;
2002-2006 Master in Biotechnology (and Theoretical Chemistry), College of Inter-faculty Individual Studies in Mathematics and Natural Sciences (MISMaP), University of Warsaw, Poland;
2004/2005 Socrates-Erasmus exchange student, Georg-August Universitaet, Goettingen, Germany;
2001-2004 Bachelor in Biotechnology, Faculty of Biology, University of Warsaw;
1997-2001 Experimental mathematics class (Matex A) , XIV Liceum im. Staszica, Warsaw

Awards & grants
2021, listed by Kobiety Forbes Women 2021 among the top 100 inspiring women in Poland
2021, L'Oréal-UNESCO For Women in Science scholarship award 2020, L'Oréal Poland
2019, Fulbright STEM Impact Award, Polish-U.S. Fulbright Commission
2018, FIRST TEAM 5/2018 grant, Foundation for Polish Science

2017, Fellowship for outstanding young scientists, Ministry of Science and Higher Education, Poland, #0707/E-343/STYP/12/2017

2015, EMBO Installation Grant
2015, LIDER VI grant, National Centre for Research and Development, Poland
2015, SONATA 8 grant, National Science Centre, Poland
2015, Marie Skłodowska-Curie Actions Individual Fellowship, H2020
2015, 2016 Grant for young researchers (DSM), University of Warsaw
2015, EMBO Advanced Short-Term Fellowship, #235-2015
2015, FEBS Journal Poster Prize, Conference "Multi-Pole Approach to Structural Science", Warsaw, PL
2009, Clare Hall Bursary, University of Cambridge, UK
2009, General Travel Grant and publication of a Traveller's Tale, The Biochemical Society, UK
2008, Qiagen Poster Prize, Department of Biochemistry, University of Cambridge, UK
2006, Cambridge European Trust Honorary Scholar
2006, Marie Curie Host Fellowship for Early Stage Researchers within ChemBioCam RTN (EU FP6), Department of Biochemistry, University of Cambridge, UK
2006, BBSRC PhD studentship (declined in favour of the above)
2004, 2005, 2006 (annually), Studentship of the Polish Minister of Science/Education for outstanding achievements in study
Other selected activities

2022, TopMinds Mentor, Top 500 Innovators/Polish-U.S. Fulbright Commission

2021 - 2028 Member of the Young Academy of Europe

2021 - 2024 Member of the University of Warsaw Scientific Council for Biological Sciences

2018 - 2020, Board Member, Marie Curie Alumni Association, EC-funded non-profit

2016, Founding Chair of the Polish Chapter of the Marie Curie Alumni Association
2009, Participation in the 4th SciFoo coorganized by Nature, Google and O'Reilly Media, at Googleplex, Mountain View, CA, USA
2005/2006, President of the Student Society of Genetics and Epigenetics (KNGiE), Faculty of Biology, University of Warsaw (2003/2004, co-founder and vice-president)
2020 - Remote Evaluator, European Commission expert number: EX2015D236921
2020 - Collaboration with MCAA Policy Working Group and the Initiative for Science in Europe (ISE), e.g. contribution to discussions about Horizon 2020 and white papers on Horizon Europe

Publication metrics on Scopus