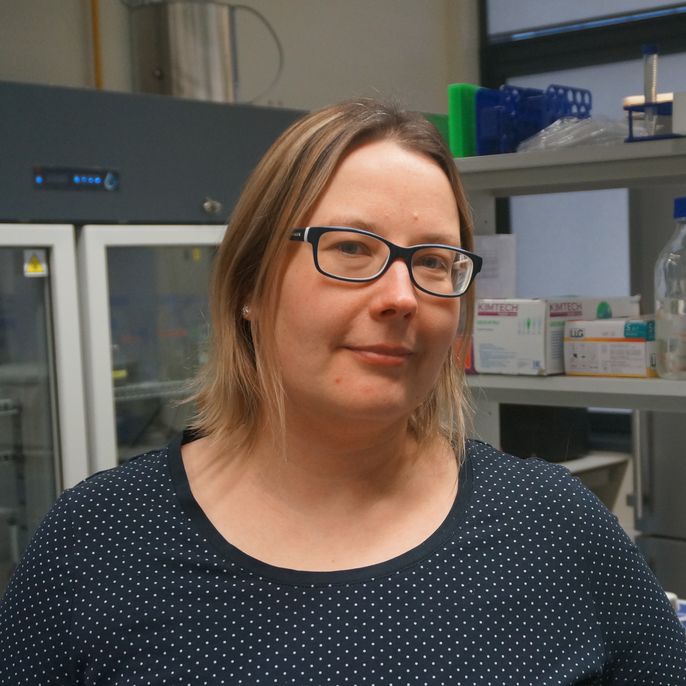 Maria Klimecka,
Ph.D.
Postdoctoral Fellow, Deputy PI
Maria joined the lab to assist the LIDER project in the R&D work regarding IFIT proteins. Next, she moved on to an assistant professor (adiunkt) position and became the main investigator in the FIRST TEAM project focused on the development of bacterial degraders and their structural studies with bacterial proteases. Since 2022, Maria works as a senior researcher in our OPUS project on the structural characterization of IFIT complexes.

Scientific Experience
Dr Maria Klimecka graduated from Medical University in Warsaw where she acquired comprehensive knowledge about chemistry, biology and pharmacology. She has learnt various molecular biology techniques first during preparation of her Master Thesis in Plant Biochemistry Department at Biochemistry and Biophysics Institute (IBB) in Warsaw and later during her PhD studies at the same institution. She obtained PhD degree in 2006 and her dissertation was devoted to calcium dependent protein kinase ZmCPK11 from maize.
In May 2008 she started a postdoc in Wladek Minor's lab at the University of Virginia, Department of Molecular Physiology and Biological Physics (US). During her work concerning aminoglycoside N- acetyltransferase from B.anthracis she have learnt crystallization methods, data collection, crystal structure solving methods of proteins and protein complexes with various small molecules. After returning to Poland she started to work as assistant in Laboratory Prof. Danuta Antosiewicz, Institute of Plant Experimental Biology, Department of Anatomy and Cytology of Plants, Faculty of Biology, at Warsaw University where she was studying metal homeostasis in plants. Recently, she was the main investigator in the NCBiR Polish-Norwegian project "Toward structural characterization of novel mechanism of inhibition of SnRK2s activity by calcium sensor (SCS) in plants", at Laboratory of Phosphorylation of Proteins, Department of Plant Biochemistry IBB PAS, Warsaw.
Scientific interests
Mechanisms of stress signal transduction in plant cell;
Protein-protein interactions;
Structure-function relationship.
Hobbies
curling,
science fiction books and films,
first aid,
Civilization 4.