MCAA Polish Chapter Kick-off Meeting
Feb 8, 2017

Date: March 6th, 13:00 - 17:30
Venue: Aula C, Centrum Nauk Biologiczno-Chemicznych UW (University of Warsaw Biological and Chemical Research Centre), Żwirki i Wigury 101, 02-089 Warsaw, Poland

Final Programme:
13:00 Welcome and introduction to MCAA - Maria Górna, Polish Chapter Chair
13:10 Marie Skłodowska-Curie Actions in a nutshell - Magdalena Chomicka, National Contact Point

13:35 Polish participation in MSCA projects - Adam Głuszuk, National Contact Point
13:50 MSCA grant – checked. What next? ERC grants in a nutshell - Andrzej Dudziński, BDN PAN

14:20 Research project cases: meet the MCAA members in Poland

Colours of a single photon - Michal Karpinski, Faculty of Physics, University of Warsaw

Vortex generators application for reduction of boundary layer separation on wind turbine blades - Javier Martinez Suarez, Institute of Fluid Flow Machinery, PAS
Energy and democracy: The case of shale gas developments in the UK and Poland - Anna Szołucha, University of Bergen
Uncovering translational control with the use of structural biology - Monika Gaik, Malopolskie Centrum Biotechnologii UJ
15:00 Coffee and snack break
15:30 Maria Skłodowska-Curie 150th birthday celebrations - Izabela Madura, Polish Chemical Society
15:50 Vision for the MCAA Polish Chapter - Rohan Soman, Polish Chapter founding member
16:00 Roundtable discussion: decide the future activities of the Polish Chapter - all attendees
17:30 Meeting closes
18:00 Social event (at Mam Ochotę, Grójecka 75)
The event is cost-free and there is a limited number of small travel stipends for MCAA members to partially reimburse travel/accommodation costs. All MCAA members are warmly welcome, especially those who would like to get involved with the Polish Chapter.
To contact the Polish Chapter, please send your message to poland.chapter@mariecuriealumni.eu
* All MSCA participants and coordinators, present or past, are eligible for MCAA membership. Membership in the Polish Chapter and the MCAA is free and requires only registration at https://www.mariecuriealumni.eu.

You can find the event also on Facebook or on the MCAA website.
Below: MCAA members meet for an informal meeting after the Kick-off event, on March 6th.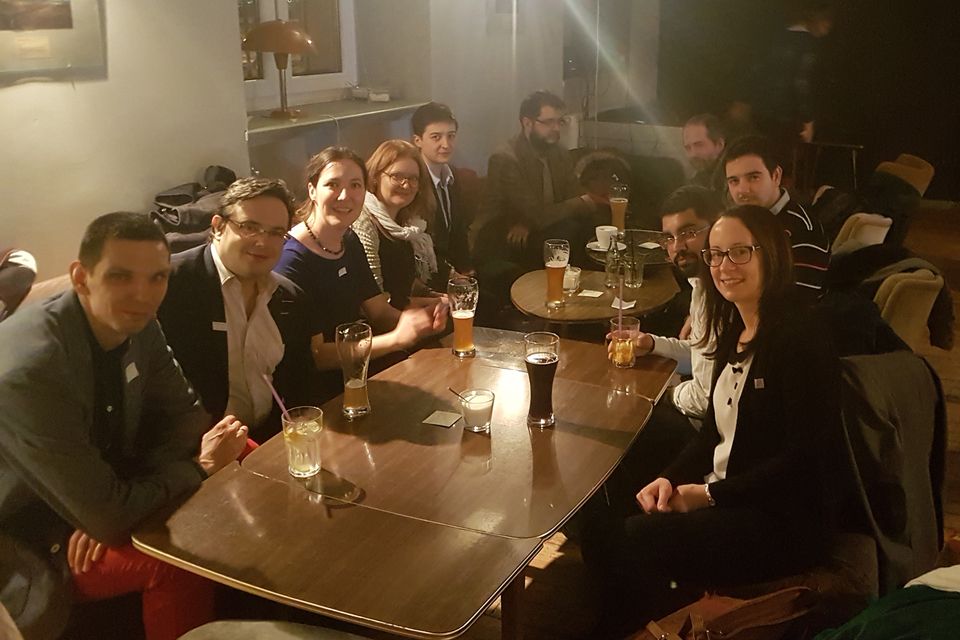 ---